Medical Devices
Genetic diagnostic products
Kaneka DNA Chromatography Chip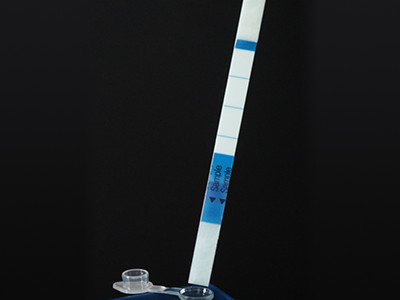 Recently, technology for genetic analysis and testing plays an important role in the treatment of disease based on individual genetic information, and determination of mislabeled food. Using the concepts of "faster" and "simpler" genetic testing, Kaneka has developed such products as "the Kaneka DNA Chromatography Chip (photo)", by which PCR amplification of multiple types can be performed at one time in about 10 minutes, "D-QUICK™" technology, by which nucleic acid amplification can be determined visually by coloration, and "the Kaneka Easy Nucleic Acid Extraction Kits", which can extract nucleic acids from a sample in about 10 minutes. By combining these, we are developing diagnostic products in medical fields focused on infections and test kits in the fields of agriculture, livestock and marine production, in collaboration with domestic and overseas research institutes and manufacturers of diagnostic products.
*Directed to an external website
Health Care
Medical Devices
Kaneka is innovating in the area of medical products, for example in the form of catheters used to treat conditions inside blood vessels and blood purification systems.

We offer an extensive line of products to meet an array of treatment needs, and we're contributing to the evolution of medical technology.