Vinyls and Chlor-Alkali
Polyvinyl chloride
Kanevinyl™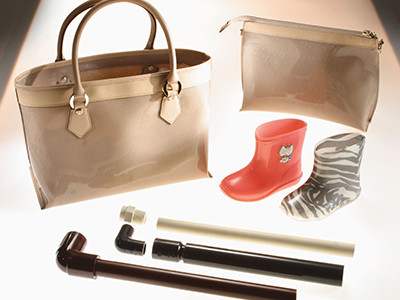 Ordinary PVC is used both in products for daily life and in industrial materials. In 1950, using our own technologies, Kaneka succeeded in becoming the mass producer of PVC in Japan.
*Directed to an external website
Kanevinyl™ S series
(Homopolymer PVC)
Kanevinyl™ KS Series
(High polymerization degree)
A wide range of applications including building materials, electrical wire and cable, leather seats, industrial materials, lifeline products, and packing
Material
Vinyls and Chlor-Alkali
Vinyl chloride is one of typical plastics.

Kaneka began mass-producing the material in 1950 with an integrated production process that extends from vinyl chloride monomer to polymer and special vinyl chloride resin. We have built facilities to produce special vinyl chloride resin in the U.S. and Asia as part of this global-scale business.

This group of products, which help support daily life and infrastructure, will continue to contribute to society going forward.