Basic Policy
Kaneka has established the Intellectual Property Department as an organization directly under the President to secure rights for our R&D results as a form of intellectual property, such as patents, thereby protecting our products from being imitated.
The Intellectual Property Department formulates and implements intellectual property strategies, including the establishment of a patent application portfolio, in cooperation with the business and R&D divisions.
We also have various in-house patent incentive programs, including an incentive program for patent applications, a patent master incentive program for the acquisition of a certain number of registered patents, and an incentive program for overseas patent registration. We actively create intellectual property by increasing application incentives for employees.
Moreover, we respect the intellectual property rights of other companies and, to avoid disputes, are sure to conduct patent searches and secure patent clearance at each phase of business development including theme proposal, commercialization and specification changes.
Establishment of Patent Portfolio and Execution of Patent Rights
In fiscal 2017, we acquired patent rights for a manufacturing method of flame-retardant expandable styrene; thermal storage materials capable of maintaining a predetermined temperature above 0°C, for storage and transportation applications; roll-in margarine that provides a low-trans-fatty-acid content but has superior formability and texture; and new lactic acid bacteria that have the functions of resisting fatigue and improving blood circulation.
Biodegradable polymer has superior biodegradability in the marine environment, and patents for resin compositions with superior moldability were registered in Japan, the United States, and Europe. In the United States, a patent was registered for a protein medicine that is effective for kidney disease that frequently affects cats kept as pets. In Japan, a patent was registered for simple formation of cellular aggregates that will contribute to the large-scale suspension culturing of iPS cells.
In Europe, based on the patent right for reduced form coenzyme Q10, we issued warnings to infringing products and had them excluded from the market. For artificial hair-related products, we detected products infringing on our trademark rights, and had them confiscated with the cooperation of Chinese and French customs.
Number of Patents Held
In reflection of our efforts to increase the patent registration ratio and to strengthen our foreign patent portfolio, which have been reinforced since FY 2011, a large number of patents relating to Organic EL (OEL) lighting panels, solar cells, medical devices, expandable plastics, etc. were registered in Japan. Meanwhile, many patents relating to modified silicone liquid polymers, solar cells, graphite sheets, biodegradable polymers, etc. were registered overseas.
Consequently, the number of patents held by the Group increased both in Japan and overseas, with domestic and foreign patents totaling 3,491 and 3,386, respectively as of the end of fiscal 2017.
Number of National Patents Held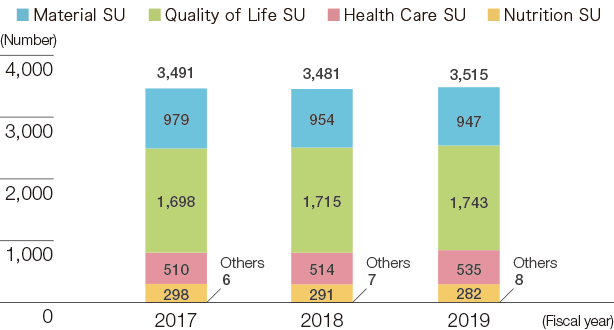 Number of Foreign Patents Held