Kaneka has jointly developed genome editing technology with NARO, enabling short term breeding in wheat
Kaneka Corporation
National Agriculture and Food Research Organization
March 29, 2018
Kaneka Corporation (Headquarters: Minato-ku, Tokyo; President: Mamoru Kadokura, hereafter "Kaneka") has jointly developed new technology "in planta Genome Editing Technology" with Ryozo Imai, a senior principle researcher in the Institute of Agrobiological Sciences, National Agriculture and Food Research Organization (Address: Tsukuba-shi Ibaraki; President: Tokio Imbe, hereafter "NARO"), which enables wheat breeding for a short term. This is a new versatile breeding technology combining direct introduction of genes and proteins into plants (iPB method) and genome editing and is expected to contribute to the advancement of crop improvement. This research was presented as a topic subject at the 2018 Annual Meeting of the Japan Society for Bioscience, Biotechnology, and Agrochemistry held in Nagoya from March 15th.
This technology can significantly simplify breeding process because a time-consuming tissue culture process, essential for the conventional genome editing, is no longer necessary. In addition, development of useful cultivars can be highly accelerated, because it is applicable to various wheat cultivars. This technology will be applicable to other major crops such as soybean, maize, potato than wheat.
Kaneka aims at food security and safety, as well as solution offering for stable food supply and will develop new cultivars with high functionality and yield through open innovation.
Abbreviation of in planta Particle Bombardment, technology which introduces genes into germ-line cells (such as pollens, egg cells etc.) within the shoot apex.
 In contrast to the conventional genome editing technology, target genes can be modified without integrating the genes encoding genome editing enzyme into chromosomes, which accomplishes quick breed improvement.
This research was partly supported by the Strategic Innovation Promotion Program (SIP), "Technologies for creating next-generation agriculture, forestry and fisheries" supported by the Ministry of Agriculture, Forestry and Fisheries.
| | |
| --- | --- |
| Figure: | the principle of iPB method: delivering gold particles coated with proteins or genes into germinating seed. |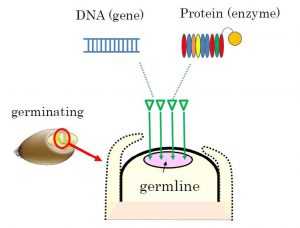 ---