Kaneka entering the dairy products business
―Technical tie-up with Pur Natur, Belgium to manufacture and sell milk, butter, etc.1―
Kaneka Corporation
April 11, 2018
Kaneka Corporation (Headquarters: Minato-ku, Tokyo; President: Mamoru Kadokura) is newly entering the dairy products business. The affiliate food sales company, Kaneka Shokuhin Co., Ltd. (Headquarters: Shinjuku-ku, Tokyo; President: Genichiro Kocho) has started selling milk (product name: "Milk for Bread") at bakeries etc. in the Tokyo metropolitan area and the Kansai area from this April. In May, we will start selling butter for mainly commercial use such as bakeries and confectionary customers. For the future, we will gradually introduce dairy products such as yoghurt and functional foods combined with our supplement materials to the market, aiming to sell nationwide including milk and butter. In addition, constructing full-fledged dairy products manufacturing factory in Hokkaido is under consideration aiming for net sales of 20 billion yen in this business for five years.
In January 2018, we have formed a technical tie-up with Pur Natur Invest BVBA (Headquarters: the Kingdom of Belgium, Kruishoutem, President: Marc Verhamme, hereinafter, the company is described as Pur Natur) aiming to develop and manufacture dairy products with pursuing high quality and delicious taste.
Pur Natur has eight group companies and is developing organic milk products to European countries. Their dairy products such as flavorful milk, butter, yoghurt, fresh cheese and other excellent processing techniques are highly valued in the market.
Domestic dairy farming industry is under tough situation due to a lack of successors and labor shortage. Acceleration of giving up farming has become serious issues.
With considering attractive dairy-farming together with dairy farmers and promoting sustainable dairy-farming as our philosophy of business development, we deal with increasing of dairy-farming productivity, improving of dairy-farming working environment, and supporting environmentally friendly dairy-farming management.
Moreover, believing organic dairy is an ideal form of circulating dairy farming management, we will work on expanding domestic organic dairy products market in cooperation with the Belgian dairy farmer group contracted by Pur Natur as well as domestic related research institutes etc.
About "Milk for Bread"
| | |
| --- | --- |
| Features | :Introducing the Pur Natur original manufacturing method, the flavor is finished with"richness but refreshing aftertaste". |
| Customers | :Bakeries in the Tokyo metropolitan area, Kansai area, etc. |
| Capacity | : 500ml |
| Price | :Open price |
 For product inquiries Kaneka Shokuhin Co., Ltd .
0120-97-1207
(10: 00 a.m. to 5: 00 p.m. excluding weekends and holidays)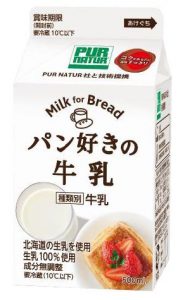 General description of Pur Natur Invest BVBA (Pure Nature)
| | |
| --- | --- |
| Headquarters | :the Kingdom of Belgium Kruishoutem |
| Business description | :Manufacture and sales of dairy products, jams, fruit spreads |
| President | :Marc Verhamme |
| Capital | :EUR 200,000 |
General description of Kaneka Shokuhin Co., Ltd.
| | |
| --- | --- |
| Headquarters | :Shinjuku-ku, Tokyo, Japan |
| Business description | :bakery and confectionery, purchase and sales for processed foods, machine sales |
| President | :Genichiro Kocho |
| Capital | :200 million yen |
 Sales / logistics network:
We support customers with solutions combining technologies, information, logistics and services along with product lineups of food material from headquarters, Tokai branch office, West Japan branch office, Kyushu branch office, 26 branch offices and a sales office nationwide.
Based on East Japan / West Japan logistics center, we have built logistics networks with branches, a sales office and other sites throughout the country.
Products can be stored and transported in three temperature ranges of room temperature, refrigerated and frozen.
---