Kaneka started to sell fermented butter in July
―Kaneka started to produce and sell milk and butter in technical cooperation with Pur Natur in Belgium ―
Kaneka Corporation
July 27, 2018
Kaneka Corporation (Headquarters: Minato-ku, Tokyo; President: Mamoru Kadokura) started to sell fermented butter "product name: Kanaka fermented unsalted butter" in commercial use for confectionery and bread in July. Kaneka made it fresh and milk-flavored butter by fermenting cream slowly at its own factory in Eniwa, Hokkaido. High quality milk as ingredient is procured from dairy farmers in Hokkaido and processed to genuine butter with a European traditional method (churn method) held by a business partner Pur Natur Invest BVBA (Headquarters: Kruishoutem, Belgium; President: Marc Verhamme, hereinafter "Pur Natur"). Kaneka also started to import and sell organic fermented butter certified with European BIO "Product name: PUR NATUR organic fermented unsalted butter" from Butterei Pur Natur, a group company of Pur Natur, in July to meet the expansion of needs for organic products in Japan for general consumers. These products will be introduced at "Kaneka Group Food Festa 2018" starting at Fukuoka Convention Center on July 31, and then in Tokyo, Osaka and Sapporo. Together with "milk for bread lovers", drinking milk started to be sold in April, Kaneka will expand sales of dairy products produced from good milk in Hokkaido through technology of Pur Natur and goods imported from Pur Natur. Kaneka also considers constructing a full-scale factory in Hokkaido to produce dairy products aiming at sales of 20 billion yen in this business within 5 years.
Churn method: traditional method to stir cream separated from milk with a butter churn to make butter.
BIO certification:an organic certification system that certify products which satisfy standards strictly specified in the EU organic farming regulations.
<Kaneka fermented butter>
Product name: Kaneka fermented unsalted butter
Weight: 450 g
Feature: Aromatic and fresh milk-flavored butter by the method of Pur Natur
Storage: keep in a refrigerator
Producer: Kaneka Corporation
Seller: Kaneka Foods Corporation

<PUR NATUR organic fermented butter>

Product name: PUR NATUR organic fermented unsalted butter
Weight : 200g
Feature: Organic fermented butter certified with European BIO
Storage: Keep in a refrigerator
Importer: Kaneka Foods Corporation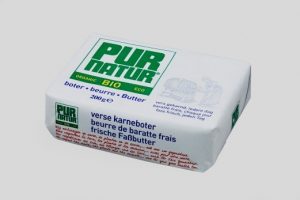 Inquiries about products: Kaneka Foods Corporation 0120-97-1207 (10:00~17:00 on weekdays)
---