Kaneka received the JSPCMB Award for Technical Advance
―For the joint research with NARO―
Kaneka Corporation
September 5, 2018
Kaneka Corporation (Headquarters: Minato-ku, Tokyo; President: Mamoru Kadokura, hereafter "Kaneka") received the JSPCMB Award for Technical Advance 2018 (hereafter "JSPCMB Award") from the Japanese Society for Plant Cell and Molecular Biology (hereafter "JSPCMB")*1 for the joint research with the National Agriculture and Food Research Organization (Address: Tsukuba-shi, Ibaraki; President: Kazuo Kyuma, hereafter "NARO")*2, regarding the development of a versatile genetic modification technology targeting the shoot apical meristem*3 without tissue culture process. The JSPCMB Award is given to a technological research that has been or will soon be utilized in plant biotechnology. The award ceremony and award lecture was held on August 27, 2018 during the 36th Annual Meeting of the JSPCMB (in Kanazawa).
The JSPCMB Award was given to the collaborative research on developing an innovative genome editing and breeding technology utilizing direct introduction of genes and proteins into plants (iPB method)*4. This technology is expected to simplify breeding process significantly due to the lack of time-consuming tissue culture process, which is essential for the conventional genome editing methods. We are currently in the process of extending applicable crops (such as soybean, maize, or potato), and applying this technology for breeding for crop improvement*5 such as environmental stress tolerance.
Kaneka aims at food security and safety, as well as solution offering for stable food supply and will develop new cultivars with high functionality and high yield through open innovation.
[Overview of the award]
Award title: The JSPCMB Award for Technical Advance
Research theme: Development of a versatile genetic modification technology targeting the shoot apical meristem without tissue culture process
Award winner: Ryozo Imai (NARO), Haruyasu Hamada, Ryuuji Miki, Yozo Nagira, Naoaki Taoka (Kaneka)
Established in 1981 as Japanese Association for Plant Tissue Culture, was renamed to "Japanese Society for Plant Cell and Molecular Biology" in 1995.JSPCMB supports development of both basic and applied researches in the fields of plant tissue culture, molecular biology and cell technology, aiming to facilitate exchanges of research information and cooperation among researchers of various disciplines,including basic science, agriculture, pharmacy, and engineering.
 (Source: official website of JSPCMB)
National Research and Development Agency under the Ministry of Agriculture, Forestry and Fisheries of Japan who conducts research and development for the growth of agriculture and food industries in Japan.
Tissues with high cell dividing actively at the growing point of plants.
Abbreviation of in planta Particle Bombardment. The technology which introduces genes into germ-line cells within the shoot apex, which are to be developed to pollen and egg cells.
To provide useful functions (environmental stress tolerance for high temperature or drought, disease resistance, high yield, etc.) through a variety of genome modifications including base substitution and insertion as well as disruption of targeted genes.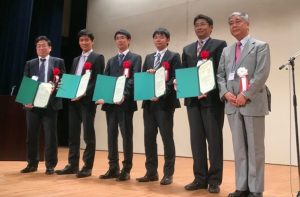 (From the left, Naoaki Taoka, Yozo Nagira, Ryuuji Miki, Haruyasu Hamada; Ryozo Imai, Senior Principal Researcher in NARO; Takashi Yamakawa, President of JSPCMB)
---