Kaneka Starts Selling "Café au lait for bread"
Kaneka Corporation
March 1, 2019
Kaneka Shokuhin Co., Ltd. (Headquarters: Shinjuku-ku, Tokyo; President: Genichiro Kocho), affiliate company of Kaneka Corporation (Headquarters: Minato-ku, Tokyo; President: Mamoru Kadokura), will launch a new café au lait product (Product name "Café au lait for bread") on April 1st. The company has entered the dairy products business and started selling milk product, "Milk for Bread" since last year. It has been well received by the distributors and customers for its "rich but refreshing aftertaste", and is now followed by this new product.
Café au lait and bread are the standard combination*1 that are eaten together in more than 80 percent of the cases, and our survey revealed that there have been strong requests for "café au lait that allows one to feel sweetness and flavor of bread and enjoy the taste of bread"*2.
Pursuing harmony with bread, "Café au lait for bread" is made of generous portion of raw milk from Hokkaido and coffee beans from Guatemala which features deep flavor. By adopting the sterilization method that is based on the proprietary technology of Belgium's Pur Natur Invest BVBA, this new product offers refreshing aftertaste while maintaining the richness of raw milk. This product is produced from the new perspective of "combination with bread" to meet needs of bread lovers.
With high quality raw milk from Hokkaido and technologies of Pur Natur, Kaneka will further expand its unique dairy product line-up, including cultured butter, yoghurt, and fresh cheese, to accelerate the market development. In addition, the construction of a dairy product plant is now under consideration, with a goal of achieving net sales of 20 billion yen in the dairy product business over the next four years.
Shoku MAP®, Menus served with café au lait in 2018 (Appearance ratio of breads)
Internal survey by Kaneka, conducted in November 2018 on female bread lovers in their 20's to 40's with n=90)
Details of "Café au lait for bread"
| | |
| --- | --- |
| Customers | :Bakeries in eastern Japan, western Japan and the Kyushu region. |
| Capacity | :500ml |
| Price | :Open price |
| Features | :"Generous portion of raw milk"      Rich blend using 94 % of raw milk from Hokkaido. |
|   |  "Coffee beans"     Using Guatemala's beans which features deep flavor. |
|   |  "Proprietary technology"  Offering refreshing aftertaste with the Pur Natur's sterilization process |
For product inquiries Kaneka Shokuhin Co., Ltd.
 0120-97-1207 (10: 00 a.m. to 5: 00 p.m. excluding weekends and holidays)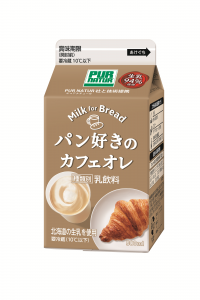 <General description of Pur Natur Invest BVBA (Pure Nature)>
| | |
| --- | --- |
| Headquarters | :the Kingdom of Belgium Kruishoutem |
| Business description | :Manufacture and sales of dairy products, jams, fruit spreads |
| President | :Marc Verhamme |
---