Reducing Waste and
Recycling Resources
Reducing Waste and Recycling Resources
Through pursuing the 3Rs (reduce, reuse and recycle) aimed at the reduction and recycling of industrial waste from our operations, Kaneka has been able to achieve zero emissions (*1) for 14 consecutive years. We are also working toward all group companies in Japan being able to achieve zero emissions.
*1 Zero emission defined by Kaneka: The final landfill waste must be less than 0.5% of the generated waste.
Cutting Waste Sent to Landfill
In fiscal 2019, we effectively achieved zero emissions, with a final landfill volume for all parent manufacturing sites of 23.1 tons, equivalent to a final landfill rate of 0.035%. The final landfill rate of 46 Group companies in Japan was 5.2%, showing an improvement of 0.3% from the previous year, but failed to achieve zero emissions.
Volume and Rate of Waste Sent to Landfill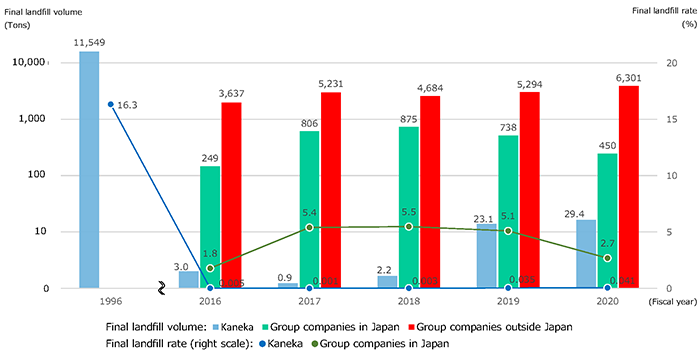 Waste Generated and Recycled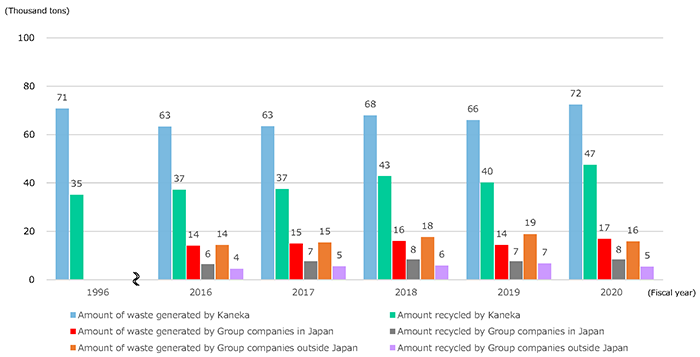 Waste Flow: From Generation to Landfill (FY 2019 actual)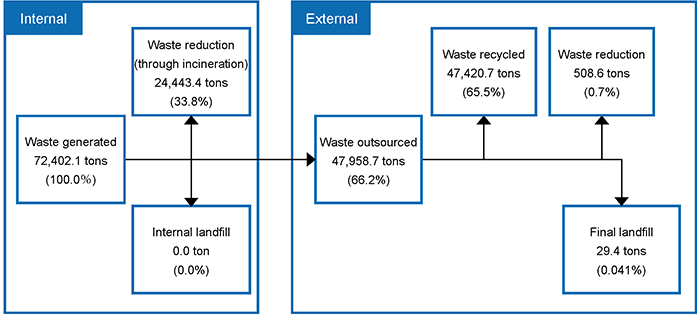 Proper Disposal of Industrial Waste
In fiscal 2019, we formulated the Guidelines for the Industrial Waste Treatment Commission to disseminate points to note at the time of signing a commission contract. We conduct regular site visits of our waste processing contractors, and carry out inspections based on a checklist to confirm that waste is being processed in the proper manner.
3R Initiatives
Because reducing waste leads to improving global sustainability by means of resource savings, cost reduction, as well as CO2 emissions reduction, Kaneka is pursuing waste reduction on a company‒wide basis.
We at Kaneka and Group companies in Japan are pursuing activities at each of our production facilities, mainly through the "3R" approach to achieve waste reduction and recycling of materials.
We also facilitate continuous improvement activities through process analysis using Material Flow Cost Accounting (MFCA).
CHECK & ACT
For industrial waste, we will control waste generation to increase the recycling rate of waste from our operations at home and abroad.
Reducing Waste and
Recycling Resources