Basic Policy
In keeping with our corporate philosophy, we at the Kaneka Group will contribute to realizing sustainable development and the enrichment of society by conserving resources and reducing environmental impacts at each stage of the entire product lifecycle.
Policy
Basic Policies for Responsible Care
Protect the natural ecosystem and reduce environmental impact
Focusing on the impact of corporate activities on the global environment and the ecosystem, we endeavor to reduce environmental impact and promote resource conservation and energy saving throughout the lifecycle of products.
Offer safe products and information
We endeavor to offer products that are safe to distribute and use, and to provide adequate information on the products such as instructions on how to use and handle products correctly.
Develop products and technologies in consideration of the environment and safety
Upon the development of new products, we give consideration to the environment and safety throughout the lifecycle of the products to the greatest extent possible, and endeavor to develop products and technologies with low environmental impact.
Reduce waste and promote the recycling of plastics
We reduce waste associated with manufacturing and its processes. We actively develop technologies for the adequate disposal or recycling of plastic waste concerning our products in cooperation with relevant industries, and endeavor to dispose of and recycle waste in a proper manner.
Enhance process safety, disaster‒prevention, and occupational safety and health
Safety and disaster prevention constitute the foundations of the local community's trust, and occupational health and safety are issues that need to be fulfilled by chemical companies. We persistently strive to make improvements in these areas.
Win public confidence
From the management to every employee, all our members shall act in compliance with laws, regulations, standards, etc. relating to environment and safety both at home and abroad. Our approach to Responsible Care as such shall be publicized accurately to the public, in hope of rightfully gaining public recognition and confidence.
Promotion System
Important matters pertaining to the protection of the global environment are decided by the Earth Environment Subcommittee and decided by the ESG Committee. Meanwhile, issues on global environment protection are shared and further discussed at the management meeting, the Plant Management Committee, and other meetings. The mid-term management plan also focuses on strengthening initiatives on important matters to further improve our ESG management.
ESG Promotion System (through Fiscal 2021)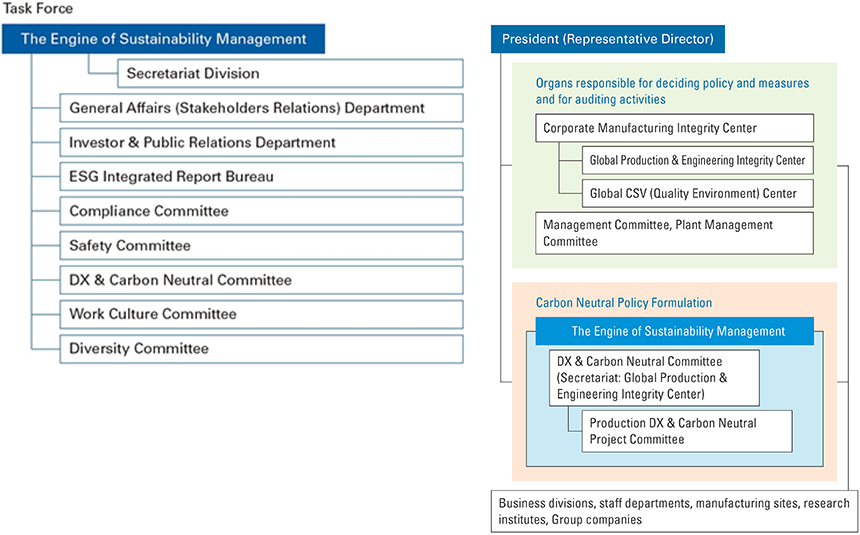 We reorganized our ESG-related organization on April 1, 2022. This involved establishing the Engine of Sustainability Management, which is tasked with overseeing and enhancing ESG management. Under the direction of the Engine, the DX & Carbon Neutral Committee determines various policies and measures.
ESG Promotion System (as of April 1, 2022)